Specialist in CA Plex applications
Specialist in CA Plex applications, Groupe T2i publishes a set of reusable Objects Class Libraries and Pattern Libraries for CA Plex, and proposes highly valuable services CA Plex. It contains more than 5.000 reusable components, which can be immediately integrated in current developments.
Object assemblies, to optimize your development
ATOL for CA Plex is a set of Objects Class Libraries and Pattern Libraries specifically designed for CA Plex by Computer Associates.
If you start up or if you already have made applications, discover a new concept for your profession through the assembling of objects designed, tested and produced by GroupeT2i.
With ATOL you're increase your productivity : Implemented within minutes each of the objects will avoid dozens of days required to design, develop and test one single category. You can thus immediately access new technological evolutions.
With ATOL you're gain in efficiency : No specific training is required,the operation and utilisation of ATOL objects and patterns are similar to those supplied by CA Plex. The team concentrates exclusively on the realisation of its applications by drawing from useful objects within ATOL library.
With ATOL you're be safe from obsolescence : In fact thousands of objects are enriched in step with the new functionalities. Furthermore we assure ascending compatibility of ATOL objects and patterns in relation to the evolution of CA Plex.
With ATOL you're gain inuser-friendly : It gives your application new and welcomed fonctionalities.
CA Plex and the Patterns.
What is Multiple Inheritance ?
This technology, particular to CA Plex of Computer Associates allows you to develop with an even greater approach than what was possible before.Concretely, this means that to design a program and more particularly a Client function, you can assembly several components (called « patterns ») this is to say, elementary functions. Until now, one only had the possibility touse one object which had to contain all of these components while having the choice to activate them, or not, in its reutilization.
Of course, reusable basis objects as well as Business objects (Frameworks) can be used with this new technology.
What does « Panel Component » mean?
This technique which is particular to Microsoft, allows to conceive more powerful and easy to use interfaces. In addition, these interfaces will be easier to develop while performing as before in terms of execution. The idea is to display a single window for the end user, in which the content will correspond to the execution of several programs.
How does one use these new technologies ?
You'll need new Technical, Functional and Business reusable objects when using these new technologies. With these new objects called « patterns » and their specific architectures, you'll be able to use the entire strength of CA Plex.
What is a pattern ?
It is a recursive combination of objects and classes.
The main interest of patterns is that it enables to manipulate more concepts rather, elaborate objects and classes, and thus to put to work assembly for processing.
CA Plex and ATOL
What is Groupe T2i's position in regards to these new possibilities and Patterns ?
Groupe T2i 's goal is to offer the end user easy use solutions with rich functionalities and to your developing team, powerful and performing tools. As a whole, we bring you relevant « Business » solutions, ready to be used in your project and which we call « Business Pattern » (Frameworks).
Along with the evolution of ATOL with its new base libraries and Frameworks,ever since late 1997 we've been working in collaboration with Computer Associates on what we call « Pattern Program ». The fruits of this work are going to enable us to offer you libraries dedicated to the patterns possibilities. We've named this new family : ATOL/Pattern Libraries.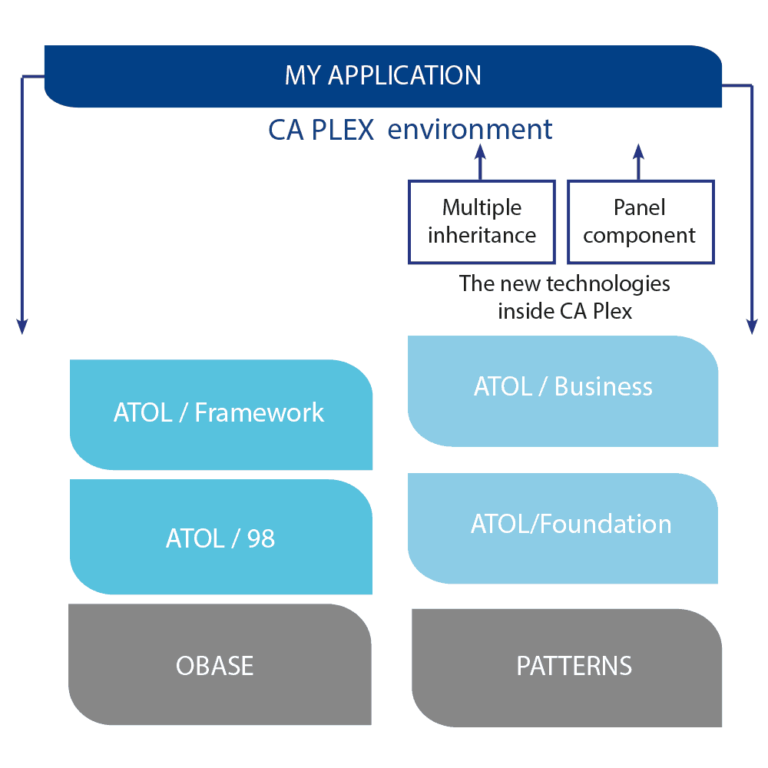 Download the last version
Atol 7.20 is available  Click here to download
Atol 7.21 Service Pack is available Click here to download 
Need help ? Do you have a project ?
Contact us for all questions.